TATTOO ARTIST IN CHANDIGARH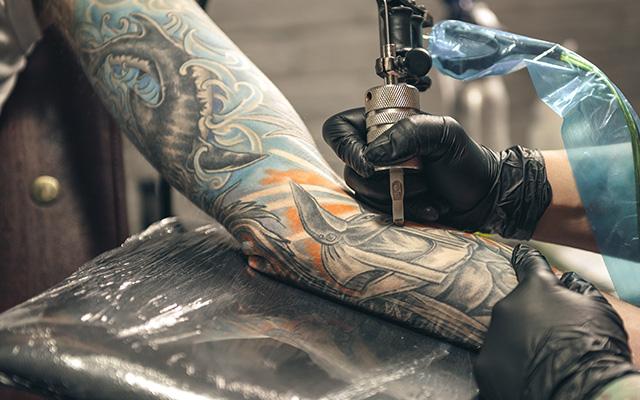 Vimoksha Tattoo is a leading name in quality tattoo services. We have a team of skilled and experienced tattoo artists to help people get a body tattoo tailored to their ideas and thoughts. We are recognized as having one of the leading tattoo artist in CHANDIGARH.
What makes Vimoksha Tattoos different?
Professional and expert team of tattoo artist in chandigarh
Creative and stylish tattoos
Use of latest tools and technologies
Fair pricing, no hidden charges
Sterilized water and equipment used
Soothing ambience with pleasant music
Clean, hygienic, and fully sanitized studio
Address: SCO No. 61, Second floor, Sector 30-C, Chandigarh, 160030
Vimoksha Tattoo - Best Tattoo Artist in Chandigarh
Amazing tattoos don't just get etched onto the skin by themselves. It takes a high level of skill-set and state-of-the-art products to create a permanent tattoo that leaves a lasting impression. At Vimoksha, Tattoo artist in Chandigarh are trained to do just that! Your tattoo is not just your identity. It is ours too. Nothing makes us feel more proud than to see you flaunting your tattoo artist in Chandigarh. To that end, we give our 100% in tattoos of all shapes and sizes. Be it a minimalist tattoo or an extensive tattoo covering your entire arm, leg, or torso. We want to make it as stunning as it can be.
Vimoksha Tattoos In Chandigarh
Our uniqueness is what sets us apart and makes us beautiful. Embrace your individuality with a customized tattoo that perfectly depicts your story and emotion. Vimoksha Tattoo in Chandigarh cares about everything that you believe in, and our sole purpose is to share your story just the way you want through a unique tattoo. This is how our tattoo artist in Chandigarh is different from the rest!
Looking to get a tattoo in Chandigarh but can't find a best tattoo artist in Chandigarh that matches your expectations? We understand how big a commitment tattoos can be, and we also know how difficult it is to trust an artist whom you've never met before!
At Vimoksha Tattoos, our service does not stop once you walk out with your freshly inked tattoo. We believe in ensuring that each tattoo made by our tattoo artist in Chandigarh looks just as impressive as time passes by. To that end, through our years of experience, we provide the best tattoo healing solutions and products that don't compromise the quality of a healed tattoo. On top of that, we deliver the memories you make at Vimoksha Tattoos through candids of your time with us and will, one way or another, remember you on your special days. Just like how tattoos are permanent, your bond with us will also be permanently cherished.